Diwali Celebrations at Anibrain School of Media Design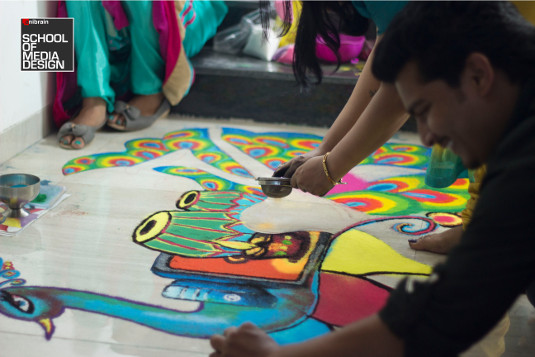 Anibrain School of Media Design hosted a Diwali Party for all our students on 16th October 2014.Students,faculties and staff participated actively and the event was celebrated with full zeal and enthusiasm. Everyone including faculties and staff were dressed in ethnic wear. As soon as the event dates were announced,students were seen busy in preparing for various competitions and programs.
The day started with Rangoli and Diya painting competition.Students showed their skills in drawing rangoli with different patterns, styles and depicting social messages.Students displayed a great team work and gusto in this competition. Using right strokes of brush,students showcased their brilliant art of creativity in painting diyas; thus proving that they can create wonders not only in graphics and animation.
In variety entertainment program, students exhibited their singing and acting skills. When it comes to a talent show, how can a student leave a chance to imitate their favorite teacher? It was hilarious when one of the student imitated his faculty and it led to a laugh riot. Some of the performances were really funny enough to tickle one's funny bone. Folk dances and singing performances from students and faculties added a flavor to the entertainment pack.
Fashion show was followed with a delightful lunch.Students dressed in ethnic wear were eagerly waiting to rock the ramp and showcase their fashion sense. The confidence,attitude and coolness that these students carried was really noteworthy!
The last event was a Treasure Hunt.Students had to work hard to find the hidden treasures.Out of the 14 hidden treasures,students could collectively find 12 treasures.
Prizes were distributed to the winners from the hands of our Business Center Head, Mr.Abhishek Chattopadhyay
It was pleasure to see that students carried keenness,zeal and enthusiasm till end of the day!