Mocomi Creative Labs
Animation,Game Design & Graphics Design Courses for Kids
Starts Every Monday of Apr & May 2016
What is a Mocomi Creative Lab?
It lays emphasis on the development of thinking skills and doing skills for young learners in a trainer led environment at your very own school, in a learner-centric environment, thereby focusing on an optimal functioning of a mind by using visuals & animations.
It draws forth the latent capabilities and sensitivities of the mind rather than filling it with pre-defined information. Hence, learning is natural, active and meaningful as it happens in the context of the experience that one goes through.
The teachers of the Mocomi Creative Labs module act as 'facilitators' of learning by providing an environment where students search for meanings, appreciate uncertainty, inquire responsibly and draw inferences for their higher growth, thereby enhancing their higher order thinking skills.
The animation and gaming modules will get the kids introduced to the magical world of Animation in which the student can get there imagination to life. The module will also teach them a new approach to make school project presentation which they need to submit from time to time.

Student will learn a new way of looking at the their boring text book and get the chapter from history or experiments of science to life. This module is not just a fun course but will also give student a new approach of learning.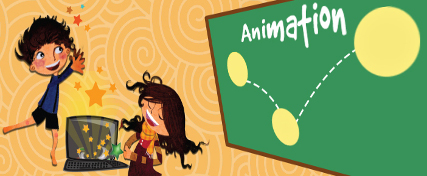 The Animation workshop instills in children essential skills such as planning, scheduling, organization, designing and animation to name a few applying the same collectively to create a short animated film.
The gaming module will teach kids how to create their own 2D and 3D game, in process they will learn to have fun mixing their creativity with maths logic for creating an exciting and dynamic game.   The skills taught in the workshop have numerous real world applications including creating world-class presentations for all subjects such as bring science experiments to live through animation.
 
Location:
Anibrain School of Media Design,
2nd floor, Sapphire Plaza, Near Axis Bank, Sakorenagar, Vimannagar, Pune. India - 411014
Softwares:
Crazy Talk Animator
Scratch
KODU
Inkscape
GIMP